Are you looking to improve your reach on Instagram and Facebook?
If so, you should definitely check out Tailwind.
Tailwind is a tool that can help you get more exposure for your account and content.
It's easy to use, and it can help you get more followers and engagement.
Plus, it's affordable (start for FREE)!
Why not give it a try?
You may be surprised at how much of a difference it makes.
Confessions of Tailwind Team Members on Instagram
So Why Tailwind For Instagram and Facebook?
So I have been using Tailwind since a consultant and friend introduced me to it about 3 months ago!

Since then, I have been spending time learning more and more about it and I love using this platform simply because it helps me do more in less time and EVERYONE wants to use their time more wisely right?
Tailwind for Instagram Benefits Straight from the Source
The above video comes directly from my friends (Chloe and Melissa) at Tailwind and they are dropping some valuable knowledge to help you use your time in the best way possible!

Click on the banner below (which is my affiliate link-Thank you in advance for supporting my Veteran-Owned and Operated Business) to learn more and sign up for FREE! 👇👇
No More Guesswork Thanks to Tailwind
Tailwind is the perfect solution for anyone who wants to take their Instagram marketing to the next level.
It's your new assistant that helps you create scroll-stopping posts and schedule them at the optimal time for maximum engagement.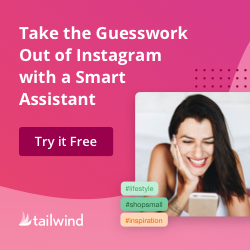 With Tailwind, there's no more guesswork involved in Instagram marketing. Simply select the images you want to post, add your caption, and Tailwind will do the rest.
It's the easiest way to get beautiful, high-quality content on your feed without spending hours creating it yourself.
So if you're ready to take your Instagram game up a notch, Tailwind is the smart assistant you need.
Use Tailwind for Pinterest too
If you're looking for a way to drive more traffic from Pinterest, Tailwind is a great option.
Tailwind is a tool that helps you create beautiful Pins faster than ever and schedule them at the best times.
Tailwind also has a feature called SmartSchedule that automatically schedules your Pins for maximum reach.
In addition, Tailwind for Instagram and Facebook enables you to manage your Instagram and Facebook accounts from one place.
And Tailwind's smart Instagram assistant provides recommendations on who to follow, what to post, and when to post it.
With Tailwind, you can save time and grow your reach on Pinterest.
Try Tailwind free today!
Tailwind Comparison Page
Tailwind for Instagram Competitor Comparison Page
Turn Your Instagram Bio Into a Stream of Leads
Drive Traffic From Instagram
Do you want to capture and convert more customers?
Then you need Tailwind.
Tailwind is the ultimate tool for email and social marketing.
With Tailwind you'll reach and engage new customers with social and convert them with email.
Tailwind for Instagram and Facebook is a smart Instagram assistant that helps you grow your business.
Tailwind makes it easy to find, post, schedule, and analyze your Instagram and Facebook posts.
With Tailwind you can get more from your social media marketing. Try Tailwind today and see the difference!
---
---
Mastering Tailwind Communities
I am extremely inspired to make a positive
IMPACT in the world by helping you create FREEDOM.
INSPIRE you to believe in yourself and achieve more of what you want for yourself...
And of course, I am here to help you IMPROVE your quality of life!
Book some time on my calendar if you want to connect directly to me!
---